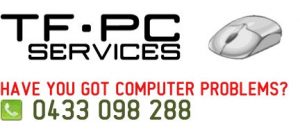 We create and maintain websites that are modern, totally responsive (mobile friendly websites) and built mainly with WordPress, which includes a strong focus on SEO.
We don't have to use WordPress to build your site, there are other platforms  that we can utilize. Some businesses only need a simple site, without all the bells & whistles. We can supply the needs that you require.
Is your website old and tired?
Do you have a website that only views well on a desktop computer?
Is it displaying warnings or very slow to load?
Or are you looking for just a fresh start?
If you answered "Yes" to any of these questions, we can help. Contact us for a free quick chat.
TF PC Services is based in Adelaide, South Australia.
What our clients have to say
I have just had my website built for our Second Valley holiday rental ( ovp-secondvalley) and cant praise and thank Tony enough for all his patience in helping me through all the logistics in setting up our business online. Tony service is excellent! and highly recommend TF PC Services for your computer needs! Thanks Tony
As a new business starting up, TF PC services was able to give me expert advice to help my web site to be more visible. Thoroughly recommend..
Absolutely brilliant service. Reliable. Friendly, Knowledgeable. Thorough. All issues were explained clearly and dealt with promptly. I couldn't recommend TF PC Services more highly. Thank you! 🙂