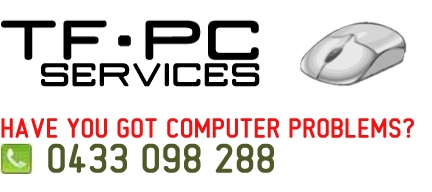 Computer Repairs Adelaide
Providing computer and laptop repairs in Adelaide, South Australia.
On-site computer repairs & support, maintenance, general trouble-shooting & virus/spyware removal.
We come to you and fix your computer problems.
Diagnostics
Hard Drive
Data Recovery
Laptop Repairs
Spyware Removal
Technical Support
Windows
Virus Removal
Network Security
Notebooks
Repairs
Software Solutions
Backups
Computer Training
Installations
Adware Removal
Security Software Recommendations
Fantastic service. Fast and very reliable. I can highly recommend TF PC Services for all your IT needs.
Tony has been doing regular work for our company over the past year and has been especially reliable, experienced and a great communicator. Our end clients have been especially impressed with him and he is highly recommended. One of the best techs in Adelaide!